Meet the Dream Team who teach ISS...
WILLIAM "SKIP" LAWRENCE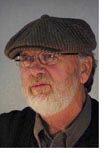 Nationally recognized painter, author, and teacher, Skip is reknowned
for his extraordinary work as a colorist.

Skip regularly has his work included in books, magazines and national publications, and juries national and international exhibitions.

Recently Skip received the High Winds Medial from the American Watercolor Society. He is the author of Painting Light and Shadow in Watercolor and is co-author and associate editor of Watermedia Focus and The Palette magazines.

"Creativity is a difficult word because people think it has some magical quality--I don't see that at all. Creativity is really following some sort of idea to some sort of conclusion — even going down the wrong road, getting lost, and incorporating that experience into what you're doing.

"The misconception many people have about creativity is that it's some sort of external thing — that you're hit by a bolt of lightning or that you have a great insight. It's really a rational thing. When you find your own unique approach to working through problems, creativity manifests itself in your work.

"Creativity is also the reason I think we get involved in mixed media. it's not so much that we're trying to be creative as that we're trying to accomplish something, and in our quest we look for ways to get there."
Skip's site link
FRAN LARSEN

Fran Larsen is a highly successful gallery-artist, teacher, and international juror. Her highly personal work embraces the essence of the Southwest.

An experienced teacher, Fran has taught workshops throughout the U.S. for the past 30 years. She has an extensive background as a gallery and art festival artist.

Her work is widely published and she has received awards in major national shows including AWS, NWS, Watercolor USA, Rocky Mountain National, and San Diego International.
Fran's work can be seen at Gallery A in Taos. Click here to visit.
Fran's work can be seen at Manitou Gallery in Santa Fe. Click here to visit.
You can purchase posters of Fran's work from Art Expression.com. Click here to visit.
KATHERINE CHANG LIU

Katherine Chang Liu—Internationally known painter, juror, and teacher. Katherine is a full-time exhibiting artist who shows internationally. Her work has been featured in 19 books and over 30 magazine articles. A recipient of funding from the National Endowment for the Arts, Katherine has served as a frequent juror for national, regional, and statewide exhibitions. She has taught for museums and numerous national and regional art groups since 1978.
Katherine Chang Liu on judging shows and on creativity in painting: "Those that receive awards are the ones that really grab me. I think most of the paintings that are entered into shows that I judge are well designed and well-executed. But that not really anything I even think about. What I look for is the artist's sincere involvement. Some artists are so removed from what they want to say that it's as if their brush couldn't have a long enough handle. They seem that detached. And some other artists will paint so close to their heart that they almost seem to be bleeding onto the page. The paintings in a show that stand out for me are usually the ones that are the most heartfelt."
Katherine's work can be seen at Gallery AMA. Click here to visit.
ALEX POWERS
Alex Powers has been a self-employed painter and teacher for 28 years. He exhibits in galleries in five states and among his many national juried exhibition awards is the Gold Medal in the 1997 American Watercolor Society Exhibition. He travels and teaches workshops in this country and abroad. Alex, Katherine Liu, Christopher Schink, Fran Larsen and Skip Lawrence have organized and been the instructors in an innovative and very successful 10-day Intensive Study Seminar now in its 5th year, which will be held this year in Taos, NM.

Alex has also juried many national exhibitions. He is the author of Painting People in Watercolor, A Design Approach, published by Watson-Guptill, now in paperback.

Alex's painting style has evolved into personal, content-dominated imagery. Using gouache, charcoal, pastel and sometimes collage on illustration board, his loose realism combines an emphasis on drawing with a awareness of the art of our time. Often the illustration boards are connected for work up to 15 feet in length.

"I attempt to deal with issues such as human origins, religion, philosophy, racism, economic, inequality, etc. These overwhelming issues are difficult to deal with, but they are what interest me. And, since I believe in the singularity of life and art, these issues are the content of my current work."
Alex's work can be seen at the City Art Gallery. Click here to visit.
More about Alex can be seen at the Fine Arts Emporium. Click here to visit.
CHRISTOPHER SCHINK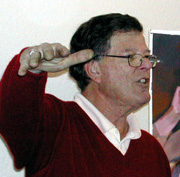 Christopher Schink is an internationally known teacher, author, and painter.

Toph is the author of Color and Light for the Watercolor Painter and Mastering Color and Design in Watercolor. His paintings have been exhibited in NWS annuals, Watercolor USA, W/C West as well as in several one and two-man museum shows. He has taught throughout the U.S. and in Canada, Mexico, Europe, and Australia.
"Creativity is Sincerity...Viewing some shows is like watching the neighbor's vacation slide show. I judge a show by picking those paintings that grab me." - Christopher Schink