I'm occasionally asked to write articles or sometimes publication editors
willinterview me for an article for an art magazine.
Here are some of those for you to download for free.
These articles may not be reproduced or sold.
Add Weight to your Watercolors
Speaking of Art
Christopher Schink on Mood

Click here to learn about The Palette: The magazine
for painters who want to make their work more
personal and expressive!
Color and Light for the Watercolor Painter
How to get the effects you want every time

There is no more fascinating a subject to painters than color.
In this acclaimed book, Christopher Schink draws upon his years
of experience of painting and teaching to present essential lessons
on color. This book is for all experience levels but especially for
beginning and intermediate painters. Starting with simple lessons
on color mixing, Topher goes on to show how color qualities such
as value, temperature and intensity become important considerations
in the composition — and the success — of a painting.
Order this book by clicking here for a direct link to its page in Amazon.com
______________________________________________________
THE PALETTE MAGAZINE special ordering site!
T he magazine designed to help you become a better painter!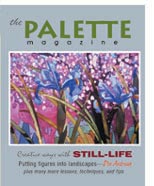 Our goal is to encourage you to produce work that expresses your
unique thoughts, feelings, and ideas.

Here's how:
#1 Professional lessons and tips on how to improve your technique
#2 Easy-to-follow exercises
#3 Exciting ideas to make your work more expressive
#4 Expert advice from today's best painters and teachers

Who is this magazine for?
You'll find The Palette Magazine useful and inspiring whatever your
level of expertise is in painting. If you're eager to learn more about
the basic and advanced concepts of painting, if you want to produce
more satisfying, personally expressive paintings, the lessons and ideas
in this magazine will help you.

How is this magazine different?
The Palette Magazine is the only 100% instructional magazine written
for and by watermedia artists. The magazine has a unique format
with lessons (such as you might get at a good workshop) and
suggested exercises to help you understand and apply the
concepts and techniques described.

THE PALETTE is published four times each year, and is available
online or through Cheap Joe's Art Stuff (1-800-227-2788).

The Palette Magazine offers you choices
—choices of technique, choices of design concept, choices of style that are all
designed to help you find your own unique direction as a painter.

The magazine is filled with useful lessons that will help you explore new
possibilities in painting. Accompanying each lesson is an exercise that
you can try yourself. It's like getting a workshop in the mail!
–––––––––––––––––––––––––––––––––––––––––––––––––––––––––
WATERMEDIA FOCUS COLLECTION special ordering site!

Published from 1998 through January 2002, Watermedia Focus Workbook
is a MUST for every painter who wants to make their art more personal and expressive.With Watermedia Focus Workbook, you'll get the inside story on how prize-winning artists plan and execute their paintings. You'll also learn ways to make your use of color and design more exciting.
Now Watermedia Focus Workbook is available in book format for issues 1 through 15 for only $34.95. A beautiful hardbound book, it's nearly 200 pages of instruction. Many of these individual back issues are no longer available in single issue format...so this is your only chance to get some of these great articles and exercises.
The remaining issues, though issue 29, are available as individual back
issues for only $5/issue.
Fire up your paintings! Break out of that box!
Express yourself even better through your paintings!
To order your Watermedia Focus Workbook Issues 1-15, or any available back-issues,
call 800-227-2788, or go online to our special ordering site!
_________________________________________________________
Invite Topher and his best buddy Skip to your home!
THE SKIP AND TOPH VIDEO SET
Now 4 great videos bring Skip Lawrence and Christopher Schink to your studio or art club.
Watch in awe as Skip and Toph unravel the mysteries of the painting universe, such as composition, color, value, shape... and much more! Enjoy the demonstrations, then try them yourself. To order these videos visit the Cheap Joe's art site or click here.